I bought a new iMac Retina 2 weeks ago in Paris (Standard configuration)
I already had an iMac for a few years but the screen exploded when a rocket exploded above my home last summer in Israel. I repaired it but it wasn't enough. The iMac is still making a very loud noise.
I wasn't working a lot from my iMac but mostly from a Macbook Air 11″. Really Love this one. A must have for all people working from different places but needed to work again on a big screen for a lot of reasons.
After 2 weeks of usage, I'm really impressed by the iMac Retina. The screen resolution is so high (5120 x 2880) that I'm really able to put many different things on the screen.
Browser on the left
Mail Client (Apple Mail), Slack or Skype: Center-Right
Clear (Task List) and Hangouts (rarely open): Right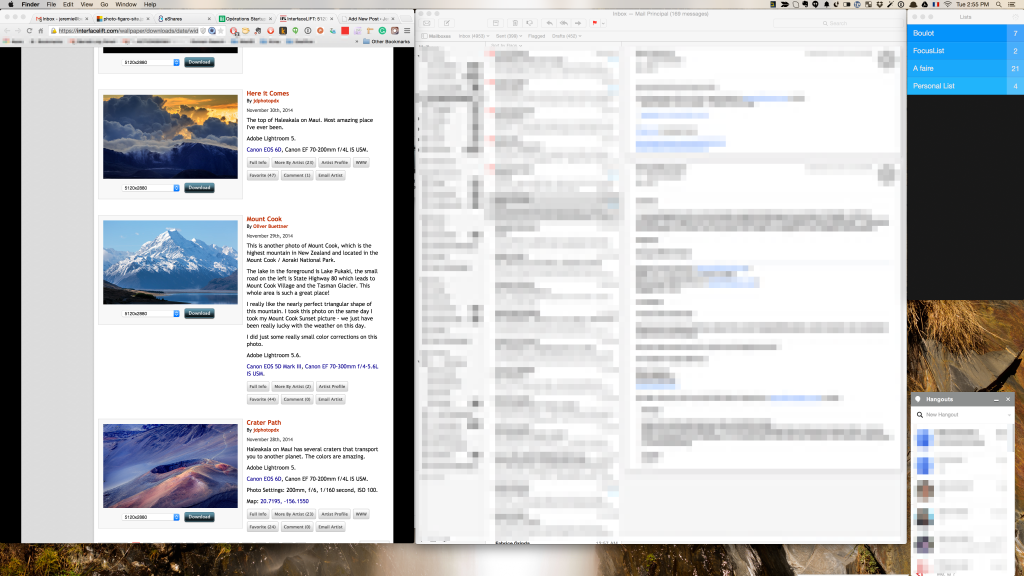 With that kind of resolution, I'm also using wonderful 5K wallpapers. MacOSX standard wallpapers which are awesome and other fabulous 5K wallpapers that I found here
I configured MacOSX to change my wallpaper every 5 minutes. Wonderful.
I installed/bought a few other very useful tools
BetterSnapTools enables me to create zones on my Screen. (Easier if you want to drag a window from a Zone to another. The window resizing automatically)
Moom enabling to move and resize windows easily
PopClip to have access to a list of functions near your mouse pointer by just selecting texts (A lot of extensions are available)
TextExpander, an awesome Mac Typing Shortcuts utility that I'm using on all my Macs (synchronized through Dropbox)
AlfredApp: The best launcher on Mac
Enjoy!